I confess to being more than a little bit of a geek when I come across an interesting vintage bike "in the wild." Quite often I'll whip out my iPhone and snap a photograph so that I can examine the details later on at my leisure. Less frequently, I have the freedom and liberty to make a sketch. While a sharply focused photograph can be a valuable documentation of an unusual discovery, I find I enjoy the sketch all the more. For one thing, it's something I've created by hand – and the act of doing so very much appeals to me and my aesthetic sense. For another, sketching affords me the luxury of including or ignoring as much detail as I wish. Photos include everything that appears within the frame. In my previous life I made photographs professionally, and I can assure you that a lot of effort went into set creation and organization. But out on the street, one is pretty much stuck with whatever one sees: light poles, trash, cars, people – the sort of distractions one can effortlessly eliminate in a sketch.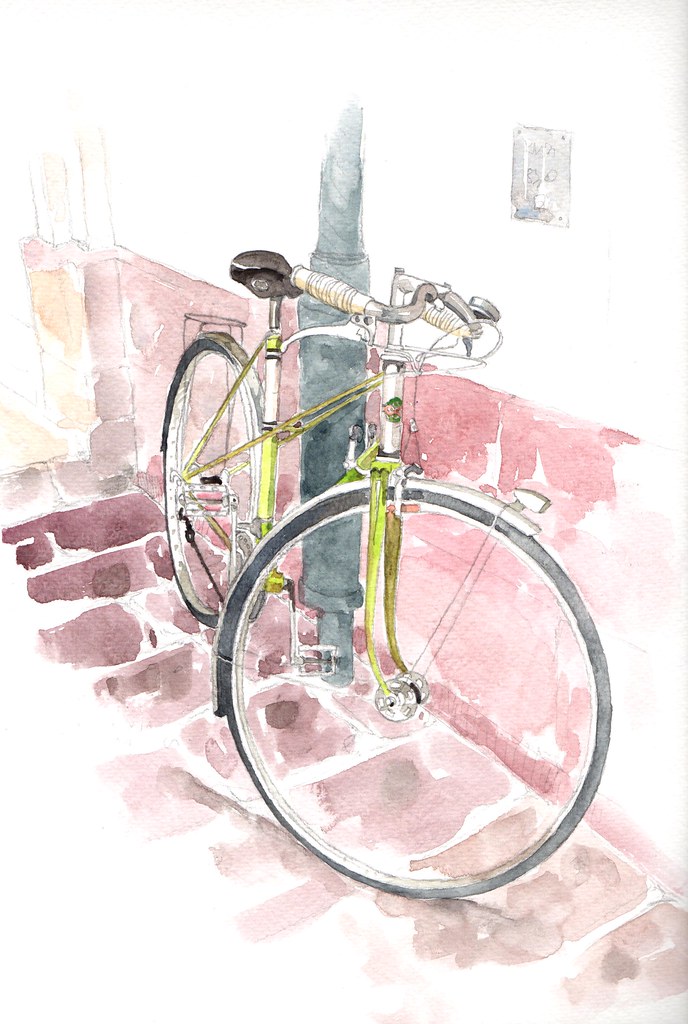 I also don't feel constricted by pure documentation when I make a sketch. The mixte frame above was interesting enough that in a few short minutes I very roughly sketched it out in pencil, then continued on my merry way walking about the city of Dijon. Along the way I encountered several other vintage bikes; those that caught my eye were, perhaps, noted. Later on when I decided to tighten up the rough sketch I realized I hadn't bothered to make field notes: with no idea what color the original bike had been, I decided to go with the colors I recalled from a completely different bike, a vintage Thiely randonneur. As I tell my students, it's not about making your art true – it's about discovering a greater truth. I'm quite content with this approach.
The elderly man riding the city bike (top image) never happened. The bike was leaning on a kick stand out in the street, and the opportunity to sketch a stationary object was a nice change from the quick, gestural studies I'd been making of people moving along the crowded sidewalk. Later, I added the man from an observational study I'd made of a fellow wandering around a market. The painting is a sort of collage of sketches, and I think is more reflective of what I had hoped to see than what I actually observed.
I often use this space to share what I refer to as "bike sketches," those quickly and often very spontaneously inked studies of the places I happen to find myself visiting by bicycle. Like this study of the Broadway Bridge spanning the Missouri River in downtown Kansas City, these are normally more gestural than anything else. Only infrequently does a bicycle actually appear in these scribbles: the bike tends to be the vehicle that makes possible that view I'm attempting to capture. And thus, I call them "bike sketches." I think it's notable the difference between the more graphic nature of a bike sketch and the subtle and more sedate watercolor sketches at the top of this page. For me as an artist, they are both equally valid means of expression, and equally valid means of communicating something I find important either via a bicycle, or in relation to bicycles in general. I'm not interested in riding my bike fast, and not especially interested in the latest, greatest technological innovations either. I prefer a slower paced, more thoughtful essence, I suppose. It's significant that two seemingly different behaviors – cycling and drawing – are yet remarkably similar in the way they mirror that attraction.
And there, it seems to me, lies an interesting truth with much more to be further explored.